Belfast Hypnotherapy With Alan Gilchrist
 Belfast Hypnotherapy and Alan Gilchrist can help you:
Stop smoking,
Lose weight,
Confront your phobias,
Learn to relax,
Conquer your fear of flying,
Stop blushing,
Improve your confidence levels,
Reduce your stress,
Combat anxiety,
Ease your exam nerves,
Control your appetite with the NEW GASTRO BAND. Gastric Band Hypnosis
Welcome to Belfast Hypnotherapy with Alan Gilchrist
Over the length of his three decade spanning career, Alan Gilchrist has placed himself in the media spotlight countless times and the regional and local television and press have often featured him and his treatments with a view to putting Fast Track Hypnosis to the test! Fast Track Stop Smoking, Weight Control, Overcoming the Fear of Flying and Phobias et al have all been tried and tested by some of the media's most familiar faces!
Ulster Television's Ask Anne featured the Stop Smoking Program and a candidate underwent the thirty minute treatment. The whole technique was filmed and a week later, in a follow up show, the candidate confirmed he had ceased smoking. Within the final episode of the series, four and a half months later, he again confirmed that he was enjoying life addiction-free and that he could officially call himself a non-smoker!
Check It Out, the UTV consumer program, also featured Alan and his introduction of a revolutionary, new relaxation system, Mindseye Courier. The American technology uses light and sound science to trigger the state of intense relaxation that is hypnosis. Traditionally, this state is produced by the far slower techniques of meditation, yoga or visualisation. By cutting down the time it takes to totally relax, the majority of the session can be dedicated to the therapy.
The Mindseye Courier is a computerized component system that creates a set of scientifically programmed and synchronized light and sound patterns. These patterns help with behavior modification and are a key part of Alan's Fast Track Hypnosis treatments in weight control, stopping smoking, relaxation, overcoming phobias, relieving stress or blushing etc.
Alan's success stems from this desire to help his clients to lead their lives free from the cloud of anxiety, depression, phobia or confidence issues.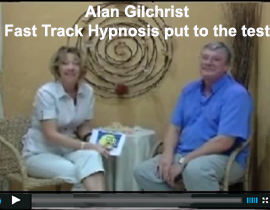 Alan has always evolved with the times, bringing new techniques and technologies to his treatments so as to provide his clients with the ultimate therapy and the latest introduction is another American concept, Laser Light Therapy.
This therapy is based on the acupuncture principle, but no needles are used in this pain-free process. A thin beam of light is focused on the various acupuncture points of the outer ear and this stimulates the production of endorphins. These are anti-stress chemicals, which produce a feeling of elation as well as reenergizing you. These endorphins are produced during hypnosis and enable the mind to focus and accept the implantation of the suggestions, which will free you from your addiction to nicotine or your bad habits.
While Mindseye Courier and Laser Light Therapy are specialized techniques, for Alan, they are part and parcel of his treatment package and all of these procedures combine to create Fast Track Hypnosis- an entirely unique process to Alan Gilchrist Hypnotherapy Clinics.
Only his son Jonathan shares the same techniques, which have evolved over time to create the very best results for the client and all in a very fast and effective way.
You will also find columns about hypnosis and hypnotherapy in the local press, written by Alan and all with the aim of broadening people's awareness of how powerful the mind actually is and the goals it can, with hypnotherapy and hypnosis, achieve.
Salespeople, athletes, entertainers, media personalities,movie producers, Film Stars, medical professionals, psychologists, other Hypnotherapists, world champions… Alan has helped them all improve their concentration, their self-confidence and to better their performance whatever their background.
Alan's main office is the Belfast Hypnotherapy Centre, but he also has clinics in:
Ballymena,
Coleraine,
Omagh,

"Dear Alan,

just a short note to say thank you very much for all your help. When I first visited you I thought I was beyond help. My thoughts were so negative and I had lost interest in everything around me. Well I must tell you that after my first hypnotic session I definitely noticed an improvement. After my next few sessions the change in my anxiety state was really amazing. My thoughts are now more positive . I am more confident and totally relaxed. I can honestly say that I have made a full recovery and back to my old self again, which is great. Your Hypnotherapy really worked for me."
Many thanks again,
Sylvia

"Dear Mr Gilchrist,
This is a letter to say THANK YOU. It is almost 6 years later since my mother and I went to you to get off smoking. My mother was smoking 40 years and I a good few years also, but a chain smoker. I felt that there was no way that I would ever stop. We had tried everything and you were our last hope and thank god that it worked. Never once have we wanted a cigarette or looked back. Just today we were listening to the news again and Cancer was highlighted. We both thought of you and what you have probably done is saved us from one of those horrible illnesses. Again thank you for the great work that you do, it lets people like us know THERE IS HOPE."
Angela and Mary